Burnham Place will create a new neighborhood that will fill a gap in the urban fabric of Washington, DC. The proposed three-million square-foot development will be built above Union Station's rail yard, providing direct access into a newly expanded and improved station facility.
Plans for Burnham Place represents the most economically catalytic project for the National Capitol Region for decades to come, and will provide a new commercial center atop an expanded multi-modal station with monumental architecture and triple its existing passenger capacity Burnham Place will be ideally located at the convergence of the city's Central Business District, Capitol Hill, NoMa, and H Street, NE neighborhoods with unparalleled accessibility.
The development will feature a mix of first-class office, residential, retail, and hotel space, as well as parks and plazas. The award-winning 2012 vision matches the quality of the original, acclaimed station design by architect Daniel Burnham and ensures that Union Station continues to be a worthy gateway to the nation's capital.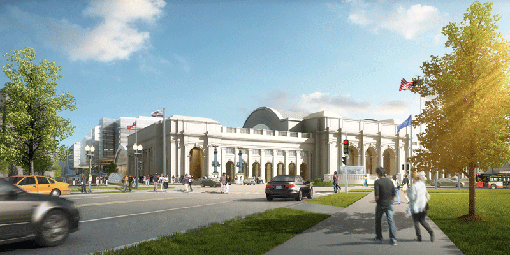 Union Station Expansion
The Union Station Redevelopment Corporation (USRC) in coordination with Amtrak is proposing to expand and modernize Washington Union Station. The Federal Railroad Administration (FRA) is preparing an Environmental Impact Statement (EIS) for this project. Please visit the project website to learn more about the project:
www.WUSStationexpansion.com
.